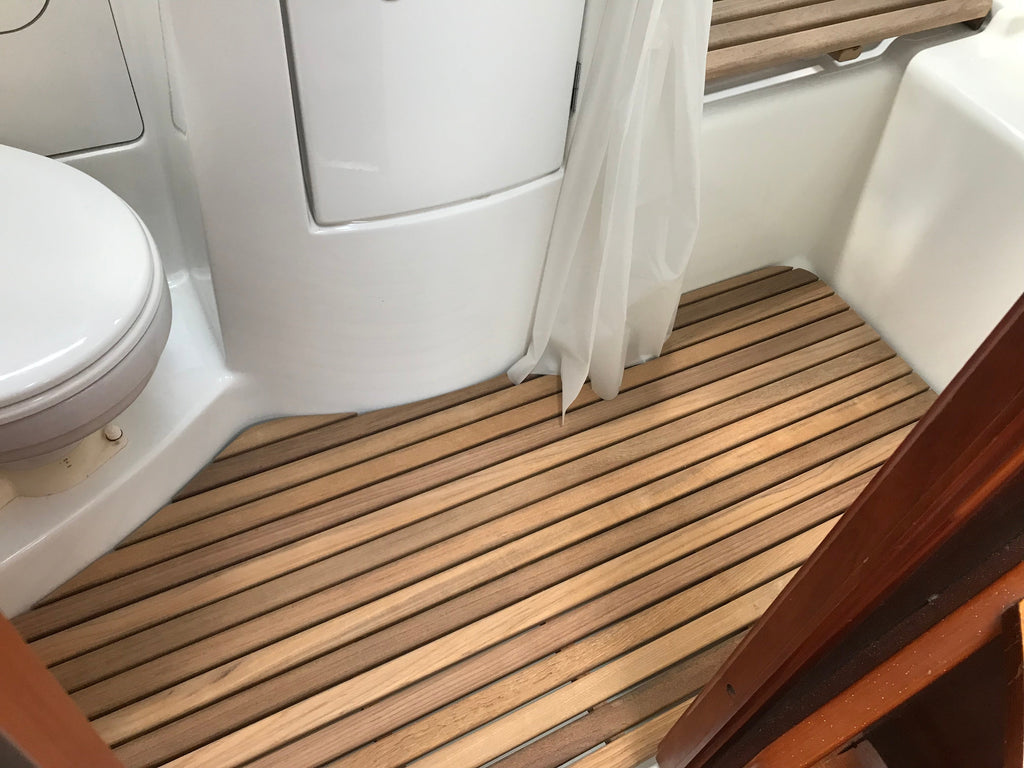 We were lucky enough to receive a request from a wonderful couple for a custom teak floor for their 2005 Beneteau 373 Sailboat! We've done a few of these in the past and our carpenters always love (my words, not theirs) a challenge. Custom mats for sailboats, motorhome flooring and odd shaped spaces can be a challenge, but our craftsmen always step up to produce a beautiful one of a kind teak floor. We simply require a template of the space you want covered, and we'll do the rest. You can use your own material for the template (rosin paper, cardboard, construction paper) or we have a template kit you can purchase here which will provide the necessary materials and instructions for crafting your template. We love working on these projects but LOVE it even more when we get responses/photos from our customers stating they love their finished product. 
Below you can see some photos of the before pictures of the Beneteau 373 sailboat flooring.
Now take a look at the after photos!  What a difference it makes in looks, but also in functionality since it provides a slip free surface.  Teak flooring installation is simply receiving the mat and placing it on top of the existing service, no tools, drilling or confusing instructions are needed!
If you're thinking about adding beauty and functionality to any odd space, please contact us for a quote. You'll be pleasantly surprised by our pricing, but most importantly you'll be completely satisfied by our top-notch customer service as well as our high-end craftsmanship.  All products are handcrafted just for you right here in the USA!
Here is what Julie and Neil had to say about their custom floor shown above:
We want to say thank you and show you our new floor in our 2005 Beneteau 373 sailboat! Please thank your very talented carpenters. We will recommend you to all! We enclose the before and after photos. Please feel free to use them on your site if you like!
Many thanks,
We look forward to working with you in the near future.
Teakworks4u