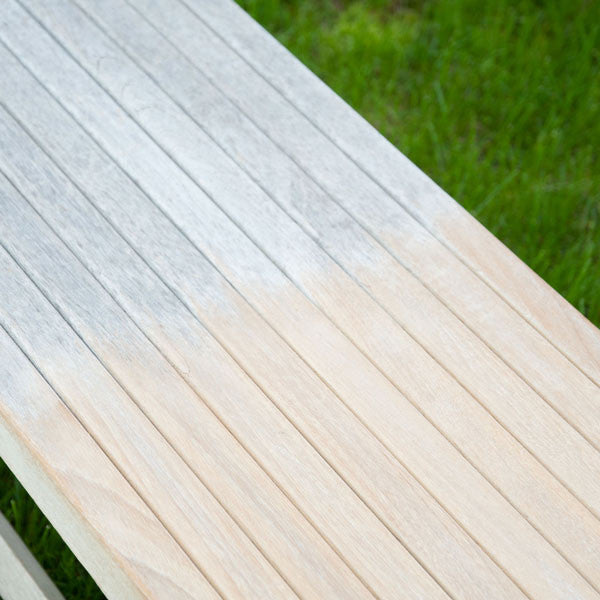 Watch this sun-bleached bench transform in 5 easy steps
While product testing to find the best cleaning products for teak, we ran a little test. This bench was left outdoors for several months until it looked bleached and worn. Check out the following pictures on how to restore outdoor teak furniture; and how we transformed it from worn and gray to bright and beautiful.

Step 1 : Spray the teak surface liberally with Teak Cleaning Solution
For a surface as badly worn as this one, you will need to apply the teak cleaning solution quite liberally. Once the surface is coated, allow it to sit for at least an hour to penetrate the wood. If your teak isn't as far gone as this, you can adjust the amount of cleaner you use and reduce the length of time you allow it to penetrate into the teak.

Step 2 : Apply some elbow grease
Once you've allowed the teak cleaning solution to do its work, you'll need to do some scrubbing to loosen any dirt or surface "gunk" from the teak.The Teakworks4u Teak Cleaning Kit (TC-DELUX) includes steel wool to use for this step. You'll see this start to bring the wood grain color back to life.
Step 3 : Rinse the surface thoroughly with clean water
You've released a lot of dirt from the wood so now it's time to rinse it away. We used a typical garden hose with the nozzle set on a light spray. Never use a pressure washer on your teak; this will damage the wood grain.
Step 4 : Spray on more Teak Cleaner and brush the surface again
This might seem like overkill, but you'll be surprised a how much gunk is still on the wood surface. Using a nylon bristle brush will also allow you to get in between the battens to remove any debris that may have gotten wedged in. Rinse the surface again and allow the piece to dry thoroughly.

Check out this side-by-side comparison of the bench before and after cleaning.
We left half of the bench uncleaned so you can easily see the difference the cleaning process has already made. You can stop working at this point, but we recommend you move on to step 5 to bring the teak all the way back to its beautiful luster.
Step 5 : Apply a coat of Teak Oil
Can you believe this is the same bench? Again, we left half of the bench untreated so you can compare the before and after easily. Rub the Teak Oil into the surface with a lint-free cloth. Allow it to penetrate for about 30 minutes, then wipe away any excess. Your teak surface is now back to its fresh-from-the-workshop finish.

Teakworks4u Teak Cleaning Kit
Teakworks4u recommends you perform routine maintenance on your mat or bench by giving it a light cleaning every month or so. You've seen how easy it is to clean and restore a weather beaten piece using the Deluxe Teak Cleaning Kit. Imagine how easy it will be to take care of your teak bench or mat when you practice regular maintenance. By the way, the all Teakworks4u cleaning products will work on any teak. Order your Deluxe Teak Cleaning Kit today.